If you grew up around contractors, you likely know a lot about what they do and are familiar with the terminology they use about rough vs finish carpentry, but if you have no clue how a house is put together from the ground up, not to worry because this article is here to explain one of the most important jobs a contractor can have:
Performing a rough carpentry or a finish carpentry job. Learning about the differences between these two jobs is much easier than you think because, in a lot of ways, the terms make sense and are easy to figure out.
Rough carpentry vs finish carpentry the main difference between them is rough carpentry is used when constructing framework such as erecting a stud walls or joists for a roof whereas finish carpentry is installing skirting boards, door architrave and even installing a kitchen.
What Is Rough Carpentry?
If you're curious about the difference between rough carpentry vs finish carpentry, it's really pretty simple.
These two jobs are two parts of a whole, so to speak. You can think of rough carpentry as the "skeleton" of the home. When a rough carpenter gets to work, the wood framing and sheathing of a building is erected.
This includes joists, rafters, blocking, stringers, studs, and subflooring.
When you drive by a subdivision that is just getting started, and you see homes with nothing but long studs of wood coming up from the ground and little else, this is an example of the work that a rough carpenter does.
In case you're unsure about some of the terms mentioned above, here are some brief descriptions of each:
Blocking: The short pieces (blocks) that make up wood-framed construction. These are pieces of dimensional lumber that usually derive from short cut-offs or even warped pieces of lumber.
Joists: A series of parallel beams, usually made out of wood, concrete, or steel, that support the ceiling or floor of a building.
Rafters: One of a series of sloped structural parts, such as wooden beams, that extend from the wall plate to the eave and which are there to support the roof deck with its loads.
Stringers: A piece of wood or other support for cross members in floors or ceilings. It can also be used to support stair treads.
Studs: A vertical framing member, a piece of wood that forms part of a wall or partition. Studs come in various lengths and are usually made out of timber.
Subflooring: A structure that is there to support the flooring and everything else that goes above it.
Rough carpentry is involved with the framing of a building.
This includes the wood or metal support systems that support a home's floors, walls, and roof.
When the word "skeleton" was used above, it was appropriate. Rough carpenters erect the "insides" of the building, so you can understand why it's so important that the job is done right.
The carpenters have to make sure the design of the building meets specific building codes, accommodates the proper strength standards, and of course, follows the basic principles of engineering.
What Is Required of a Rough Carpenter?
Rough carpenters have to have specific skills to do their job right.
After all, if the insides of the building are compromised in any way, the entire building can be compromised, which can be unsafe for the people moving in afterwards.
Some of these carpenters' duties include inspecting structures and equipment for possible defects or errors, handling supplies to keep others safe and to make sure building materials are not ruined, and most importantly, they must have excellent communication skills. Why? Because these people will be expected to communicate with people both on the job and those not in the organisation; for example, building owners, other subcontractors, and so on.
This doesn't just include homes. Any structure that is built requires a rough carpenter, including office buildings, commercial entities, hospitals, schools, public buildings, warehouses, restaurants and diners, and anything else that needs a building to live or work in.
They build tract homes, custom homes, and everything else. The rough carpenters you choose have to be experienced because this is a job whose rules have to be followed to a tee from the start of the project to the finish.
Rough carpenters are also called framers, and they need to have the experience to know exactly what to do every step of the way to make sure the end result is a building that is sturdy and safe, and which will stay that way for many years to come.
Erecting the frame of a house is a very intricate job, and therefore, it requires a very skilled professional who knows all about mathematics, machine repair, equipment knowledge, complex problem-solving, and time management.
Since not all rough carpentry is the same due to the many types of structures, there are, this is definitely not a job for either the lazy or the inexperienced carpenter.
Rough Carpenters Also Have to Be Versatile
When it comes to wooden structures like the frame of a house, rough carpenters are responsible not just for erecting the frame, but also for the repair and maintenance of these structures.
In addition to homes, however, rough carpenters can be hired to build rough wooden frames for other structures as well, including tunnels, scaffolds, temporary frame shelters, and even various billboard signs.
They utilise tools such as rules, squares, and measuring tapes, and they have to be thoroughly familiar with reading blueprints so that they can determine all of the specifications and dimensions of the woodwork.
Rough carpenters also cut timbers and plywood to get them to the correct size, mark reference points and cut lines on construction materials, and use bolts, nails, and steel cables to join or hold these wood structures in place.
They have to be familiar with handsaws, power saws, scribers, and many other tools to do the job correctly.
Why mention this? To demonstrate that rough carpentry is a very complicated job that isn't learned overnight.
When you drive by a brand-new subdivision, and you see framed houses sprouting up everywhere, it may look like a simple job, but in fact, every centimetre of that home has been planned out ahead of time and worked on by a true expert who is detail-oriented enough to do the job perfectly every time.
What About Finish Carpentry?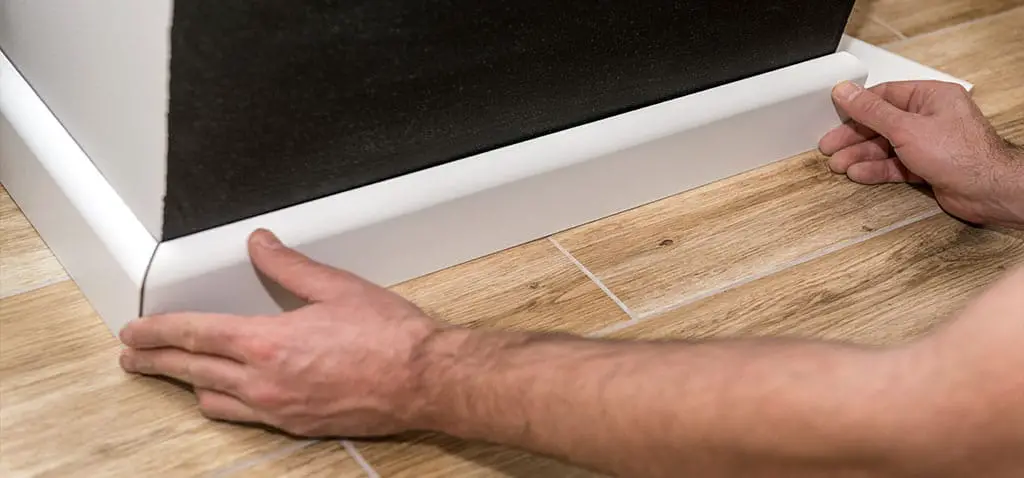 As you can imagine, finish carpentry is the next step in the home-building process, so finish carpenters essentially "finish" the job so that the house can be occupied.
Finish carpentry is broken down into three main actions: measuring, cutting, and attaching.
This is because the list of items they install is long and includes the doors, mouldings, trim, cabinets, shelving, and stair bannisters, not to mention everything else that is required to finish the interior of a home or office.
Part of the work involves making sure all of your installations are level, and your joints are nice and tight, so it requires a certain level of woodworking skills.
There are some parts of this job that are often handled by subcontractors, including the building of doors and cabinets and installing the windows, floors, appliances, and countertops.
In fact, if the homeowner has chosen custom-made cabinets, they are usually installed by the company that made the cabinets.
In addition, since trim carpenters don't work outside, exterior trim work is also usually contracted out.
Trim jobs also don't involve the painting of the trim, although trim carpenters may finish either the trim or the doors.
The contractor makes a lot of these decisions, so each finish carpentry job is a little different.
If you think a finish carpenter doesn't need that much experience, think again.
These experts have to know how to use tools such as circular saws, scribes, hand-held coping saws, and supplies such as sandpaper, chisels, and files.
They have to know how to cut panels and install cabinets, cut angles on inside mitred corners, fine-tune all of the cuts before installation occurs, and cut angles to ensure there are no gaps on any of the moulding or trim in the home.
First Thing's First
As you can imagine, finish carpentry involves a lot of work with doors and trim, and trim carpenters usually start their job by installing shelves, then moving onto bi-fold and walk-through doors.
If the doors and trim in the house are unfinished, they naturally have to finish those items before they are installed.
This is why some spray equipment is usually found onsite. Most of the time, walk-through doors are pre-hung, which means they are already hung on jambs. This makes the actual door-hanging process much more comfortable and shorter.
In addition, windows and doors usually need either trim or casing, and the carpenters use mitres to do this.
Once the trim carpenters handle their part of the job, the windows and doors are ready to be installed.
Once everything is in place and installed the way it's supposed to be, the finish carpenters step in and conduct the final inspection, which is a crucial part of the process, as you can imagine.
They make sure everything is stable and tight, including baseboard and casings, stair railings, architectural mouldings, mantels, and everything else.
But they do even more than this. The finish carpenters make sure all bi-fold closet doors and walk-through doors are working the way they should, as well as check for any type of dents, gaps, scratches, and putty smears.
If there are, the finish carpenters make all of the necessary repairs to get them to look suitable for the homeowner.
Finally, they clean up all of the mess they've made so that the entire home is clean, neat, and ready to be occupied.
If you're curious about what tools finish carpenters need to do their job correctly, they include:
Diagonal pliers
Handsaws, such as a fine-cutting backsaw
Miscellaneous supplies such as files, hand-sanding blocks, knife, sandpaper, wood putty, stain, and clear finishes
Mitre box
Nail sets
Trim hammer
Finishing up
Finish carpentry is the final step in the building process. Finish carpenters install finish woods and trim, as well as crown moulding, windows, baseboards, stairs, and many other design elements.
They can also be hired to build and install stairs, decks, and custom cabinets. Finish carpenters have to be detail-oriented and have a lot of focus and concentration, so they do not overlook or forget anything important, which the homeowner is certain to notice.
In addition, just like rough carpenters, finish carpenters also work on commercial and industrial projects as well as homes and apartment buildings.
Whenever you see a building or some type of home somewhere, just know that before it got to where it is today, it needed both rough carpenters and finish carpenters so it could turn out perfect in the end.
In fact, when you research carpenters, you'll find there are three main types: rough carpenters, finish carpenters, and repairers, who are usually used in remodelling more than the original construction of the facility.
This shows you how important both rough and finish carpenters genuinely are.
The Right Carpenter Is Important
Carpentry is a detail-oriented job and therefore, you'll need to have specific skills if you want to be a carpenter yourself.
Whether you're interested in a career in carpentry or you're looking for the perfect carpenter for a project you need to be completed, keep in mind that professional carpenters need to excel in the following skills:
Communication skills to communicate with subcontractors, homeowners, and so on.
Computer skills, since more and more tools, are computerised these days.
Critical thinking skills, including logic and reasoning so that they can anticipate problems to come up with the right solutions.
Detail-oriented skills so that exact measurement can be taken.
Good manners, especially since they'll be working with all types of people.
Hammering skills, which include keeping the nail straight and making sure the job is neat and clean when they're done.
Learning skills so that they can keep up with the latest changes and findings in their chosen career.
Listening skills, since they have to give their full attention to both customers and those in charge of the project.
Mathematical skills, which allow them to take proper measurements and read blueprints.
Mechanical skills so that they can operate tools such as laser levels, rotary tools, and so on.
Physical strength and stamina, since construction projects usually involve long days outside and sometimes even a long time to complete the project.
Problem-solving skills so that they can recognise problems when things don't go as planned and determine what to do about them.
Teamwork, since no carpenter ever works alone and therefore they have to know how to work with other people for long periods of time.
Technical drawing skills that require familiarity with CAD (computer-aided design) software so that they can work with architects.
Tool skills, at least for the essential tools including alignment tools such as laser levels, measuring tools such as carpenter's squares and tape measures, and miscellaneous tools such as drills, saws, chisels, routers, wood planes, and others.
Training and experience, either on the job or through a combination of schooling and working on various projects, not to mention multiple types of projects.
Indeed, today's carpenters need computer experience and to keep up with all of the fancy equipment and tools that are now available. If you're hiring carpenters for a particular home or business project, you should make sure they have these skills so they can handle that project.
This applies whether you're building a home from the ground up or you simply need some necessary repairs to your home or office.
If you're interviewing rough or finish carpenters, make sure they have at least one year of experience, including experience with the type of project you need to be done.
Ask the carpenters you interview if they can read a blueprint, how long they've been doing their job, if they have their own tools, how much they will charge you for the project (usually a per-hour charge), what safety precautions they take, and how long it will take them to complete the project.
When you're interviewing carpenters, you have a right to get this information, so never hesitate to ask them a lot of questions.
Real professionals will never mind any questions you throw their way, and it will make you feel more confident knowing that you got the right one.
Conclusion
While rough carpenters and finish carpenters do two completely different jobs, each of them has to be done just right if the project is going to turn out perfect in the end.
Rough carpenters start the job and finish carpenters complete it. Whether your job involves two separate sets of carpenters or one set to accommodate both of these jobs, the contractor will make sure you get carpenters with the expertise and knowledge to guarantee that you'll be happy with the project in the end.
After all, this is your home, and you have a right to get an experienced carpenter who can guarantee these services so that once the work is done, you'll have a house, office building, or warehouse that you'll be proud to show off to others.