By explaining what's the difference between a slimline and a full-size dishwasher will help you choose the right dishwasher from your home and your family.
The Difference Between A Slimline And A Full-Size Dishwasher
As a general rule, a full-size dishwasher is 60cm (600mm) in width and can hold on average 12 place settings which is around 120 items of cutlery and crockery, whereas a slimline dishwasher is 45cm (450mm) in width and can hold on average 9 place settings which is around 90 items.
A dishwasher can be a great addition to your kitchen, but choosing the right dishwasher for your home can be a challenging discussion as there are so many to choose from.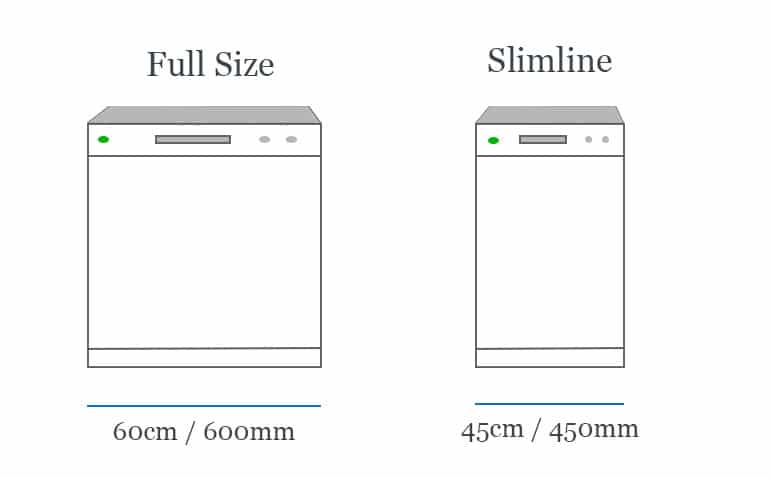 Which Dishwasher Is Big Enough?
Full-size dishwasher – The size of this dishwasher has the room for on average 12 place settings which are on average 110 to 120 items
Therefore it is more suited for a family of 4 and above with the dishwasher being used every couple of days smaller families may struggle to fill the dishwasher and start to run out of cutlery.
Slimline dishwasher – The size of this dishwasher has room for on average 9 place settings, which is on average 80 to 100 items.
Therefore it is more suited for smaller families or couples the slimline dishwasher still has the capabilities of a full-size dishwasher.
Still, they can be less energy efficient with the dishwasher than a full-size dishwasher
I personally have a family of three, and I have a slimline dishwasher that goes on every night, and that does us fine.
What Is A Place Setting When Buying A Dishwasher?
The place setting amounts are used in all dishwasher specifications and are used to describe the capacity of each dishwasher, a place setting is 10 items which would contain
Knife
Fork
Soupspoon
Dessert spoon
Teaspoon
 Dinner plate
 Soup and dessert plates
 Tumbler
 Teacup and saucer.
Therefore, you would be able to load a standard dishwasher with 12 times the list above and a slimline dishwasher with 9 times the items on the list.
Nowadays, we don't set the table in the same way; however, the items used by most families would, in some way, be simpler over a couple of days.
What's The Price Difference Between A Full Size And Slimline Dishwasher
The price difference between a full-size dishwasher and slimline dishwasher is mostly the same.
The example below is of a similar make and model of dishwashers with one being a slimline and the other full-size dishwasher so you can see a comparison of the price
How Much Water Does A Dishwasher Use
A full-size dishwasher on average between 10 litres and 12 litres of water per wash whereas the slimline dishwasher will use on average between 9 litres and 11 litres per wash with some models of the slimline dishwasher using the same amount of water
So how does this compare to washing up by hand?
Well, it might be hard to believe that washing up by hand uses more water than the average dishwasher I know right.
If you wash up your dishes by hand uses on average between 40 litres and 60 litres of water per wash.
This means using a dishwasher to wash your dishes will save between 30 litres and 48 litres on the full-size dishwasher and between 31 litres and 49 litres of water with a slimline dishwasher.
If you work that out per year, it's enormous saving's of water between 10'950 and 17,549 litres per year on a full-size dishwasher and on a slimline dishwasher that's a saving of between 11,342 and 17,885 per year
Are Slimline Dishwashers Still Worth Buying?
Sometimes kitchens are very small and trying to install a full-size dishwasher can be a bit of a struggle and can not be an option; therefore, a slimline dishwasher would be the best option as they are only 45cm wide and in some cases a little less deep.
A slimline dishwasher is not as efficient as a full-size dishwasher; however, a slimline dishwasher can still cope with a full load of cutlery and crockery which makes these dishwashers just a good as a full-size dishwasher.
If you have a dishwasher that needs to be installed, I have a guide for how to install a dishwasher
Although I have been taking about the difference between a full-size dishwasher and a slimline dishwasher they also come in three different types such as
Free standing
Integrated
Semi Integrated
And further more there is one type of dishwasher I have not spoken about which is a compact dishwasher which is also known as a countertop dishwasher
A countertop dishwasher is also a choice if you have even less space in your kitchen as these types of dishwashers sit on top of the worktop however they are much smaller and are mainly for small flats or apartments.
For more information on how to install a countertop dishwasher, I have a full guide for you.
If you are still not sure which dishwasher to buy then read our full dishwashers buyers guide all on the different types of dishwashers including all specifications and my full recommendations on slimline, full-size, and countertop dishwashers as well as integrated and semi-integrated and the benefits of all.